Horsefly Bites
Horsefly bites are rising fast in the UK as a heatwave sparks an invasion of the painful biting insects. Soaring temperatures are bringing an influx of the bugs similar to those found in Mediterranean countries.
The flies are known for targeting horses but can often be found around ponds, pools, woodlands, grass, livestock and humans. Horseflies like warm weather and normally appear in June and July so they tends to bite on warm, sunny days, especially your head and upper body. Insect repellents will help keep the horseflies at bay and it's a good idea to protect yourself if you're going into rural areas.
Light coloured clothing will also make you less of a target for the flies, which are attracted to dark, moving objects. The flies don't normally head into dark areas – so you will be better protected in the shade.
In general these bites will clear up within a few hours or days and can be safely treated at home. However, although the horsefly doesn't spread disease, its bite cuts the skin rather than piercing it and as a result it can cause extreme pain, leaving large swollen sores full of pus on the skin and develop into large, red, itchy, swollen bumps within minutes. Victims may also experience dizziness, weakness and wheezing.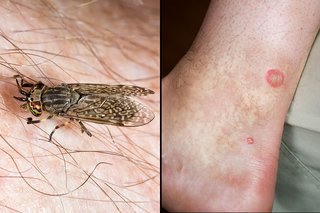 Signs and Symptoms:
a larger red, raised r sh called hives or urticaria 
dizziness
weakness
wheezing
part of your body becoming puffy and swollen
Treatment:
Clean the area
Apply a cold compress
Keep the wound covered to prevent infection
Elevate the affected area to reduce swelling
Do not scratch
You should contact your GP or NHS 111 if:
The symptoms do not improve within a few days
You're stung around your mouth, throat or eyes
An area of 10cm or more becomes swollen and red
The wound becomes infected
Increasing pain, redness and swelling.
You have a fever, swollen glands or flu-like symptoms
You should dial 999 if:
You are wheezing or having difficulty breathing
You have a swollen mouth, throat or face
You are nauseous or vomiting
Your heart rate increases
You feel dizzy or faint
You have difficulty swallowing
You lose consciousness